Characteristic
High-speed response and high accuracy
By adopting the new Cortex-M4 ARM, the lock frequency reaches 80 MHz and the response frequency reaches 500 KHz. The response speed to the pulse command is increased. High-precision positioning is realized by monitoring the operation at every 50 μs and adjusting the position by feedback of the optical encoder mounted on the motor.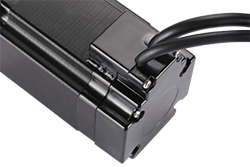 Lost loss
Since the current value is adjusted in real time according to the load, it does not step out even under sudden load fluctuations or sudden acceleration. Increase the current according to the rapidly increasing load.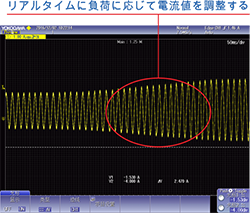 Hunting lets
Positioning Completed Huntingless when stopped. From the feedback from the encoder, you can compare the actual position with the target position, adjust the motion in real time, and stop as soon as it arrives at the target position. Even low rigidity mechanism like belt can be used with confidence.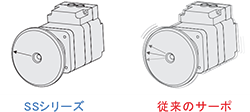 No gain adjustment, easy operation
It is unnecessary to adjust the gain of position servo with its own control algorithm, and operation is simple.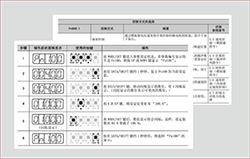 Fulfilling functions
16 stairstep decomposition with dip switch (200, 400, 800, 1600, 3200, 6400, 12800, 25600, 1000, 2000, 4000, 5000, 8000, 10000, 20000, 25000 P / R) 1 pulse, 2 pulse input, in-position signal output, alarm output and so on.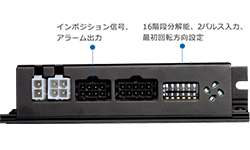 Immediate identification of alarm content with 4 color LED
It combines red, blue, green, and yellow four LED blinks to display the driver's operating condition and alarm, so it is easy to grasp the contents.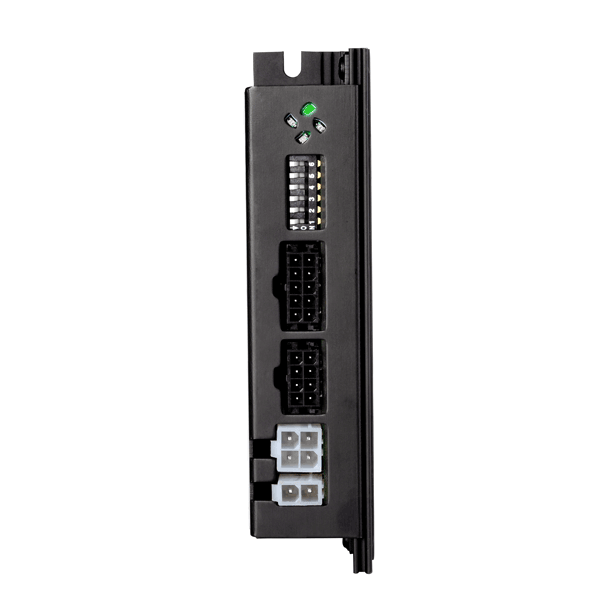 Encoder cas time possible
Magnetic type, Incremental type encoder is carried. Resolution is 1000 P / R, but various encoders are offered in response to customer's request.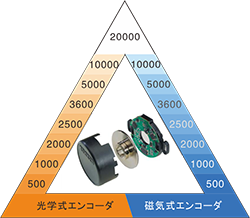 Option
1 m, 3 m, 5 m General-purpose type and anti-bending type motor cable and encoder cable are available.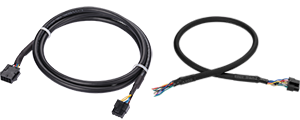 Specification
Driver
How to look at the model number
□
SS
57
- □
Sky: Phase
3:Three-phase
Stepping Servo
57 : Flange 57mm Adapt to motor
Derived model
86 : Flange 86mm Adapt to motor
110 : Flange 110mm Adapt to motor
Electrical specifications
| | |
| --- | --- |
| Supply voltage (DC) | 48V  24~75V |
| Output current | 1~2A |
| Input signal frequency (Hz) | 1~500KHz |
| Input pulse width | 250~5E+8ns |
| Signal input voltage (DC) | 5V  3.6~24V |
| Signal output voltage (DC) | 30V(max) |
| Signal output current | 100mA(max) |
General specification
| | |
| --- | --- |
| Mass | 220g |
| Operating temperature | 0℃~+40℃ |
| Operating humidity | 35~85% RH9(There is no dew condensation) |
| Storage temperature | 0℃~+60℃ |
| Storage humidity | 35~85% RH9(There is no dew condensation) |
| Elevation | Above sea level 1000m Less than |
| vibration | 5.9m/s2 Max |
| Safety standard | CE、UL、RoHS |
| Insulation voltage | 1000V |
| Heat countermeasure | 2MΩ |
Motor
How to look at the model number
SM
57
1
A
-1000
A
O
Series
Flange size
Motor length
Axilla
Encoder resolution
Incremental
Encoder type
1000:1000P/R
O:optical
5000:5000P/R
M:Magnetic type
| | | | | |
| --- | --- | --- | --- | --- |
| Model number | SM4201A-1000AO | SM4202A-1000AO | SM4203A-1000AO | SM4204A-1000AO |
| Size [mm] | 42 | 42 | 42 | 42 |
| Step angle [°] | 1.8 | 1.8 | 1.8 | 1.8 |
| Maximum Static Torque | 0.25 | 0.35 | 0.46 | 0.75 |
| [N · m] | | | | |
| Rated current [A / phase] | 1.2 | 1 | 1.2 | 1.7 |
| Inductance | 4.8 | 9 | 6 | 5 |
| [MH / phase] | | | | |
| Resistance [Ω] | 3.2 | 5.7 | 3.5 | 2.5 |
| Encoder | 1000 | 1000 | 1000 | 1000 |
| [P / R] * | | | | |
| Axis length [mm] | 18 | 18 | 18 | 18 |
| Axis easy [mm] | 5 | 5 | 5 | 5 |
| Motor length [mm] | 54 | 60 | 68 | 80 |
| Mass [g] | 0.29 | 0.34 | 0.41 | 0.54 |
| Drawing | | | | |
Cable
Type
Cable type
Cable length (m)
Type expression
Motor cable
Standard cable
1
SW50GM01
3
SW50GM03
5
SW50GM03
Flexible cable
1
SW50FM01
(Frequency of flexion: 5 million times)
3
SW50FM02
5
SW50FM03
Encoder cable
Flexible cable
1
SW14FE01
(Frequency of flexion: 5 million times)
3
SW14FE03
5
SW14FE05